Moderators: NinjaMama, Fanny Fligurl, Officers
CU Supporter
Posts: 1852
Joined: Sat May 31, 2008 1:30 pm
Location: Oak-town
Contact:
Bike night hosted by Street Assassinz Fremont is tomorrow,

Tuesday, March 16th

. Who's going?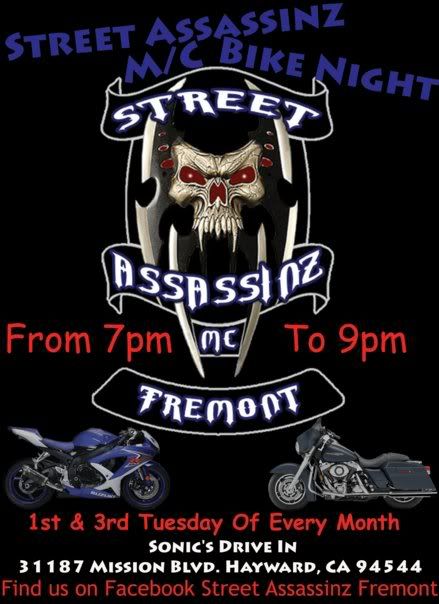 Click here for a map!
Last edited by
chiconaduc
on Mon Mar 15, 2010 12:58 pm, edited 1 time in total.
Wren
Kiss French, eat Italian, ride British!

"Curve: The loveliest distance between two points." -Mae West
---
President
Posts: 4859
Joined: Tue Nov 15, 2005 10:30 am
Location: Ripon
Contact:
I'll be in class tonight, but I'll try for another Tuesday. Have fun SAMC!
Humanity is a terrible thing to waste. Be patient, treat others with respect, and ride like you borrowed it indefinitely!
---
CU Supporter
Posts: 1187
Joined: Wed Jun 25, 2008 8:02 pm
Location: South South West San Jose
Contact:
Wren in tight with the SAs now? Postin up their fliers?
You go Wren! LOL.
I'm working tonight, I need to make it to one of their bike nights tho, there was, i think, 5 of them at Josh's Bday party! Very cool!
-Savage!
Vampires MC SC Chapter Member
408 SBF Big Perm's Prospect - tee hee!

---