Moderators: NinjaMama, Fanny Fligurl, Officers
Curvalicious
Posts: 7385
Joined: Thu Aug 07, 2003 6:53 am
Location: San Leandro, CA
Contact:
SOLD~
Last edited by
MistrissKittie
on Fri Jan 22, 2010 4:36 pm, edited 1 time in total.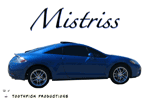 ---
President
Posts: 4859
Joined: Tue Nov 15, 2005 10:30 am
Location: Ripon
Contact:
Sad to hear, but you know you can always pick up another dirty girl in the near future. Good luck with the sale. I'll spread the word at work too.
Humanity is a terrible thing to waste. Be patient, treat others with respect, and ride like you borrowed it indefinitely!
---